Healing the whole person—
Premera leads effort to focus on behavioral health
Homelessness. Domestic violence. School suspensions. Drug abuse. Criminal activity. What's one common thread that runs through all of these issues? Behavioral health problems.
And yet for many people — and society in general — the subject is still taboo. When someone is diagnosed with cancer, their community rallies around them. When someone has mental illness, the topic is hidden. It's difficult to talk about and even more difficult to treat.
"If you go back to when I was being trained, the image of a patient with mental health conditions was a homeless person talking to himself," said Dr. David Wennberg, chief science officer of Quartet Health, a company that helps connect primary care physicians and their patients to behavioral health services. "While that is a huge societal issue, that's a relatively small proportion of the behavioral health world. It's overwhelmingly depression, anxiety and substance disorder. One in four Americans will face a behavioral health issue annually."
The prevalence of behavioral health conditions is greater than the five most common chronic health conditions combined — heart failure, coronary artery disease, chronic obstructive pulmonary disease, asthma and diabetes.
Historically, people with behavioral health problems have not only been stigmatized, but faced the challenge of obtaining services, which often were not covered by traditional health insurance. In addition, services between medical and behavioral professionals are not always coordinated, adding to the challenges of treating the entire person.
And yet the importance of treating the whole person — physically and mentally — is important to help people achieve optimal health. "If you don't treat the mind, the body isn't going to do as well," Wennberg said. "If someone has heart disease, they could have depression. And if you don't treat the depression, the heart disease will get worse. If someone has diabetes, heart failure, coronary disease or pulmonary disease and a mental health condition, they're 1.5 to 2.5 times more likely to end up in a hospital than if they didn't have the mental health condition. They're not in the ER for the mental health condition, but the physical condition that they're unable to manage well because of overall anxiety, depression or substance abuse disorder. If you treat their mental condition, they feel better and don't end up in the ER as much."

Wennberg noted that mental health conditions are in the top five reasons for disability, absenteeism and productivity problems at work.
Treating behavioral health problems as early as possible is especially important, said Neil Peterson, founder and chairman of Edge Foundation, which provides coaching to children with Attention Deficit Hyperactivity Disorder and to those who have experienced adverse childhood experiences. "For the individual child, obviously for their health and wellbeing, (treating these conditions) is crucial. From the point of view of society, if the interventions are not provided and you become an adult with these kinds of issues, the impact in society is significant — two times as likely to commit a crime, be unemployed, be divorced, four times as likely to be in an auto accident and seven times as likely to have a substance abuse issue. It translates into tremendous costs to society in each of these arenas. We would be well positioned as a society to provide early interventions when these kids are kids so they don't fall into the category when they're adults."
According to the National Alliance on Mental Illness, individuals living with serious mental illness face an increased risk of having chronic medical conditions and adults in the United States living with serious mental illness die on average 25 years earlier than others, largely due to treatable medical conditions.
Funding innovative programs
Recognizing the importance between behavioral health and overall health, Premera Blue Cross launched the Premera Social Impact Program aimed at supporting behavioral health issues, particularly in underserved communities. Premera, which serves Washington and Alaska, believes that overall health will improve by addressing behavioral health issues — especially for people of color and low-income populations where community health data consistently shows treatment disparities exist. By treating behavioral health, people's physical health will improve — something that's good for the company and good for the community.
In 2018, Premera announced an additional $40 million community investment, following recent changes to the U.S. corporate tax system resulting in a one-time-only refund to the company.
Premera Social Impact financially supports 64 evidence-based programs and pilot projects with the potential for significant impact in Washington state and Alaska. The focus, for the most part, is on prevention rather than intervention — to have the biggest potential impact.
Premera grant used as catalyst
Sometimes a Premera grant funds an entire program. Other times the grant serves as a catalyst to convince other funders that a program is worth funding. That was the case for Catholic Charities of Spokane , which received a $175,000 grant to launch its fundraising efforts for Rising Strong, a multi-million dollar project to help families at risk of child neglect due to alcohol and substance abuse. The program includes housing, drug treatment, behavioral health and other wrap-around services for families with children pulled from their homes by Child Protective Services.
"You can't improve the child welfare situation substantially without tackling addiction," said Mike Yeaton, chief strategy officer with Empire Health Foundation, a Catholic Charities partner on the program. Every family admitted to the program receives subsidized housing and treatment. The goal is to catch families and offer services early enough to keep the children out of foster care. "The premise of this model, which has been shown to be effective, is that if you allow families to stay together during treatment you reduce trauma to the kid and increase success for the parent," Yeaton said.
In January 2019, nine families became the first to graduate from the program, all moving into stable, independent housing. Additional families will continue to be served with on-site services that include mental health treatment, substance use counseling, family stabilization and parenting skills.
"The mission of Rising Strong is to minimize family and child trauma by keeping families together and preventing separation," said Dawn Kinder, MSW, managing director of Rising Strong. "Taking kids away from parents is probably the most traumatic thing we can do for kids, even if parents aren't making good choices." While 57 percent of parents in Washington state unite with kids in three years, Rising Strong unites 90 percent of children with parents within eight months. "Without Premera's support we'd be seeing higher incidents of childhood trauma and longer separation time," Kinder said.
Focus on children with adverse childhood experiences
Many Premera grants focus on programs that address adverse childhood experiences (ACEs) — stressful or traumatic events that include abuse, neglect and household dysfunction such as witnessing domestic violence or growing up with family members who have substance use disorders. Such experiences can have far-reaching mental and behavioral health consequences, including anxiety, depression and substance abuse in adulthood.
The nonprofits that received funding from Premera in 2018 have made great strides in enhancing programs that work with those suffering from ACES and behavioral health issues.
With its $150,000 grant, Childhaven added two programs to serve more and older children, all of whom were exposed to environmental risks, including drugs, poverty, crime, domestic violence and homelessness. For 40 years, Childhaven has annually provided intensive, six-hour-a-day therapeutic childcare, transportation, food, nursing and therapy to about 200 children up to age 6. One of the new programs, for children up to age 3, offers additional physical, occupational and speech therapy. The second program offers outpatient mental health services to children up to age 13.
"Premera's grant was a keystone investment in new workforce that could help us launch these service lines," said Jon Lanthier, Childhaven's director of communications. By the end of 2019 Childhaven projects it will be serving twice the number of children the agency was previously able to serve. "The grant has enabled us to broaden our spectrum of services for a population with very high needs. We're serving the community need in a much more effective and comprehensive manner."
Meanwhile, United Way of Snohomish County is using its $1.25 million muilti-year grant to create five CORE Collaboratives to help poor families. Coordinators work with nearly 100 nonprofit, private and public partners to collaborate to help families trapped in poverty more easily access services needed to improve their lives. Two of those programs specifically address ACE challenges. One is aimed at improving school attendance for children in families experiencing homelessness. The other supports early bonding between infants and parents in families impacted by opioid use.
"Rather than siloed programming that serves adults and children separately, the CORE Collaboratives shift the focus to consider the needs and goals of the whole family," said Lark Kesterke, United Way of Snohomish County's director of impact and investment. "There are very few two-generational approaches that consider all the individuals in the household and create a system of care for the whole family. Successful child outcomes are deeply interconnected to successful adult outcomes."
Each collaborative coordinator goes beyond giving families a list of resources. Instead, the coordinator actually brings the family together with service providers. For example, the coordinator works with opioid-using parents from the moment they are separated from their babies in the hospital to schedule visits with their child at Homeward House, a new facility designed specifically for the families to spend time together. The goal is for the family to ultimately reunify permanently.
Alaska Children's Trust, using a $220,000 grant from Premera, created a comprehensive "History and Hope" curriculum, which offers intense education on ACEs to educators, healthcare staff and policy makers throughout the state. Since the curriculum was finalized, nearly 2,000 people have been trained in more than 14 different Alaskan communities and through online webinars. The curriculum is part of the Alaska Resilience Initiative, which aims to reduce childhood trauma. Some 20 percent of Alaskans have an ACE score of 4 or higher, with each point marking one type of abuse, neglect or other hallmark of a rough childhood. As ACE scores increase, so does the risk of health problems and poverty, so addressing ACEs is key to improving the overall health and well-being of Alaskans.
Part of the history of trauma goes back to Alaska's history of colonization, in which land was taken from Alaska's indigenous people and children were taken from parents and placed into boarding schools, where many were emotionally, spiritually, physically, and sexually abused. As Alaska Resilience Initiative co-chair Liz Medicine Crow of First Alaskans Institute said, "Since the trauma was collective, the healing needs to be as well." This inspires much of the initiative's approach.
Laura Norton-Cruz, director of the Alaska Resilience Initiative, said the program has already increased the knowledge of trauma, resilience and trauma-informed education – and it has changed attitudes around the importance of culture as a protective factor for healing from childhood trauma.
"The funding allowed us to create the curriculum and this curriculum helps create a shared language and a shared understanding on how trauma affects people and what we can do about it — the idea that we all have a responsibility to do something about it," she said. "It increases compassion, curiosity, connection, community and ceremony. It addresses child trauma and frames child trauma as something that doesn't occur in a vacuum. The 'History and Hope' curriculum empowers people as individuals, professionals, community members and voters to create the conditions where children can thrive. It does it in a way that is trauma-informed and is culturally responsive."
"It is clear that behavioral health is inseparable from physical health," said Dr. Shawn West, Medical Director for Provider and Customer Engagement at Premera. If you are severely depressed, you will not be able to effectively manage your diabetes, control physical pain, and you may self-medicate with alcohol or other drugs which can lead to addiction. For the majority of people who are suffering from psychological distress, whether it be depression, anxiety, or other conditions, there is safe, effective treatment that can vastly improve their quality of life."
Premera is not alone. Consulting firm Milliman estimates that integrating behavioral and medical care could save the industry $26 billion to $48 billion annually.
"When we think of a large healthcare company like Premera, we think of physical well-being," said Paul Hollie, who heads Premera's Social Impact Program. "But behavioral health plays a significant impact in all of our lives." The company is not only supporting behavioral health through its philanthropic efforts, but has also partnered with Quartet to help medical providers to connect patients to behavioral health services.
"We're trying to help deliver those tools to our physician partners, to take the stigma and the barriers away from behavioral healthcare," Hollie said. "Taking active steps both on our philanthropic side and business side is something Premera is focused on doing."
Depression, anxiety and mood disorders are the top conditions that prevent people from achieving optimal health, according to the Blue Cross Blue Shield Health Index.
Social Impact Grant Recipients
Abused Women's AID Anchorage, AK
Alaska Children's Trust Anchorage, AK
Anchorage Project Access Anchorage, AK
Big Brothers Big Sisters, Puget Sound Seattle, WA
Boyer Children's Clinic Seattle, WA
Byrd Barr Place Seattle, WA
Catholic Charities of Spokane Spokane, WA
Catholic Charities of the Dioceses of Yakima Yakima, WA
Center for Human Services Shoreline, WA
Chief Seattle Club Seattle, WA
Childhaven Seattle, WA
Children's Center Vancouver, WA
Cocoon House Everett, WA
Community Foundation, Southwest WA Vancouver, WA
Community Foundation, Snohomish County Everett, WA
Community Foundation, South Puget Sound Olympia, WA
Community Resilience Initiative Walla Walla, WA
Community Youth Services Olympia, WA
Compass Health Everett, WA
Covenant House Alaska Anchorage, AK
Downtown Emergency Service Center Seattle, WA
Empire Health Found./Catholic Charities Spokane, WA
Friends of Youth Kirkland, WA
Greater Tacoma Community Foundation Tacoma, WA
Homage: Senior Services, Snohomish Cnty Everett, WA
Hopelink Redmond, WA
Housing Hope Everett, WA
Imagine Housing Kirkland, WA
Innovia Foundation Spokane, WA
Kent Youth and Family Services Kent, WA
Kitsap Community Foundation Silverdale, WA
Lifeline Connections Vancouver, WA
Lutheran Community Services Northwest Vancouver, WA
Lydia Place Bellingham, WA
MY House (Mat Su Youth Housing) Wasilla, AK
NAMI Anchorage Anchorage, AK
Navos Burien, WA
Neighborcare Health Seattle, WA
Pioneer Human Services, Spokane Spokane, WA
Plymouth Housing Group Seattle, WA
Powerful Voices Seattle, WA
Progress House Association Tacoma, WA
Renton Family Community Services Renton, WA
Rural Alaska Community Actions Program Anchorage, AK
Sidewalk Olympia, WA
Snoqualmie Valley Community Network Carnation, WA
Sound Tukwila, WA
Sunshine Community Health Center Talkeetna, AK
theService Board Seattle, WA
Transform Yakima Yakima, WA
Transitions Spokane, WA
United Way of Snohomish County Everett, WA
Volunteers of America, Central WA Spokane, WA
Wellspring Family Services Seattle, WA
YMCA of Snohomish County Everett, WA
Youth Eastside Services Bellevue, WA
YWCA Seattle-King-Snohomish Seattle, WA
YWCA Spokane Spokane, WA
"We're at the forefront to do new and interesting things with these entities. We believe that this work can help make a small dent in ending the stigma associated with behavioral and mental health issues," said Hollie, noting that according to a U.S. Centers for Disease Control and Prevention survey only 25 percent of adults with mental health symptoms believe people are sympathetic and caring to those with mental illness. "The stigma, unfortunately, keeps people from getting the treatment they need."
Other successful programs
In March 2018, Premera invested $1.6 million in Cocoon House to support the construction of the new facility in downtown Everett, Wash. Cocoon House uses trauma-informed approaches to outreach and empower at-risk and homeless young people throughout Snohomish County. The new facility will not only expand the ability for Cocoon House to be a service location for young people, it will expand programming to become the only housing program of its kind in Snohomish county dedicated to serving people age 12-24 years.
Equipping all staff with behavioral health training
Hopelink, a non-profit focused on ending poverty in King and Snohomish counties, is using its $200,000 Premera grant to launch a program to train staff and volunteers about how the toxic stress and trauma of adverse childhood experiences impact its clients. The goal is for staff to use this knowledge and understanding to help clients exit poverty.
Adverse childhood experiences, which can include everything from abuse to parental alcoholism to living a life of racism or poverty, not only can have a lifelong impact on an individual's mental health, but their physical health as well, according to a landmark study by Kaiser Permanente and the Centers for Disease Control and Prevention. The study has led treatment providers to offer what's known as "trauma-informed care," which focuses on what happened to an individual rather than what is wrong with an individual. Hopelink is integrating the research into trauma-informed care in the way its staff work with clients.
"Our Premera partnership is really exciting," said Meghan Altimore, Hopelink's vice president of community services. "Really understanding new techniques to engage with the people who are coming for our services is going to deepen those relationships and help people achieve even more after they're done with Hopelink."
Added Hopelink chief executive Lauren Thomas, "The more we can get involved in adverse childhood experiences and trauma-informed care and equipping our staff with the most recent research about what our clients experience, the better outcomes we'll have."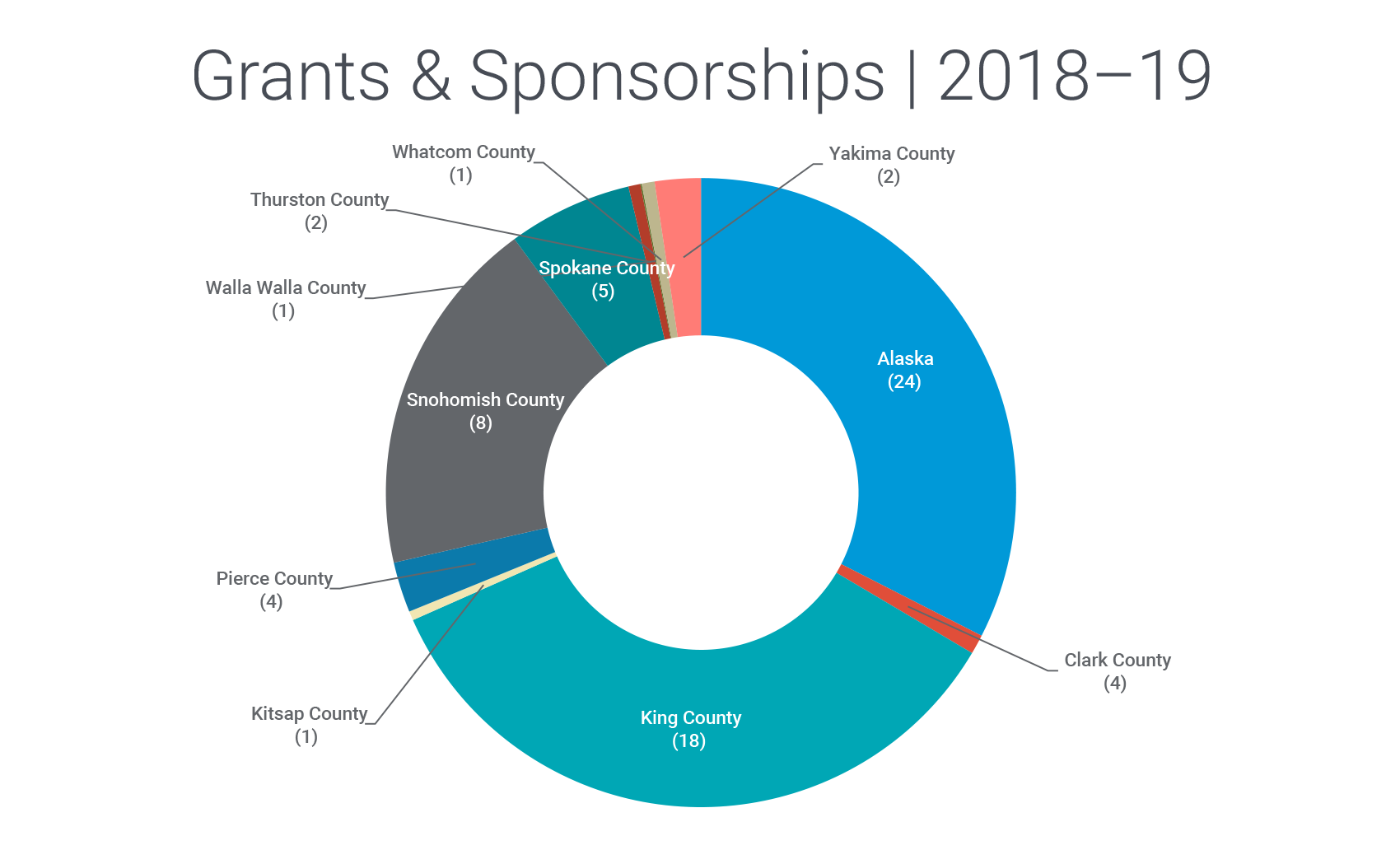 Serving rural Alaska
Premera's support extends far beyond the boundaries of urban centers. It also extends to rural communities in the far reaches of Alaska, where patients live as many as 70 miles from the nearest health clinic or pharmacy.
"Premera is the only insurance company serving the individual market in Alaska and is an integral part of those communities," Hollie said.
Covenant House Alaska (CHA), based out of Anchorage, provides housing and behavrioal health services for homeless youth. The nonprofit received a $1 million Premera grant to support their Rapid ReHousing program, which will move 30 you, ages 18-23 from temporary shelters into apartments.
"Putting a roof over someone's head often means the difference between life and death, and that makes homelessness a healthcare issue," said Jim Grazko, President and General Manager of Premera's Alaska office. "We are excited to partner with Covenant House and help them fulfill their bold vision of eradicating youth homelessness."
Sunshine Community Health Center of Talkeetna, Alaska, is using its $95,500 grant to expand and fully integrate behavioral health services into primary care clinics and public schools over a 12,000-square-mile geographic area that sits between Anchorage and Denali State Park in southern Alaska.
Some 6,000 people live in the area in remote population centers with 500 to 2,000 residents. Many live off the land in dry cabins accessed only by snow mobile during part of the year. Sunshine is using most of the grant money to fund behavioral health programs inside the schools. It pays for a behavior health specialist who offers group and one-on-one counseling, parenting classes and health awareness events for issues such as tobacco awareness, cyber safety and suicide prevention. The money also subsidizes transportation, a critical need when patients live so far from their medical clinic or pharmacy. "A huge thank you to Premera for helping us to help the children in our community," said Sunshine Executive Director Melody West.
Serving people experiencing homelessness in Eastern WA
Premera also kicked-off the capital campaign for Volunteers of America East Washington& Northern Idaho (VOA) for a new women's shelter in Spokane with a $1 million grant. It will allow the shelter, Hope House, to expand their services, move to a new shelter in December 2019 and triple the number of women they serve each year.
Setting an example
Ultimately, Premera hopes to set an example for the rest of the healthcare community about the importance of treating behavioral health as a way to treat the whole person. "We wanted to really put a stake in the ground in where we do business. We're part of Washington; we're part of Alaska. We want to let folks know we want to help make our communities better in a meaningful way and this is one way we can do it," Hollie said.
Premera employees are passionate about their communities — it's part of the culture. They're also not afraid to roll up their sleeves. Once again, co-workers teamed up to participate in Seattle Works Day. The volunteer effort spread teams from Bothell to Shoreline, to South Seattle and to West Seattle. The work was hard, but colleagues came together to clear brush and plant healthy gardens.
"It was rewarding to see the team getting to know each other," said Premera volunteer Janna Turner. "We were working together to contribute to the community that can benefit from the food grown here on this farm."
"There was a lot of sweat and numerous scratches from blackberry stickers," said Jemima Monroe, another Premera volunteer. "But most importantly, we made a difference."
When Premera employees weren't picking or pruning, they were hitting the road. Events like the JDRF Beat the Bridge and the Puget Sound American Heart Association Heart and Stroke Walk gave colleagues a chance to represent Premera's commitment to good health along with families and friends. Premera captains encouraged their teams through various fundraising activities. In 2018, Premera teams fundraised over $125,000 for the Puget Sound Heart and Stroke Walk.
Premera showed its generosity again during the annual United Way Campaign — this year becoming the largest corporate supporter in Snohomish County. Companywide, employees outdid themselves by encouraging fun and engaging ways to learn more about the United Way and its programs. In total, Premera employees generated more than $730,000 in support for the United Way of Snohomish County and the Spokane County United Way.
Proud to be supporting Pride
In addition to funding new programs, Premera also donated $42,500 to past grant recipient Seattle Pride. The money not only supported the LGBTQ organization and the 2018 Seattle Pride Parade, but also allowed parade participation by Cocoon House.
Having support from an insurance company sent a great message, said Seattle Pride President Kevin Toovey. "When I first learned about the potential relationship, I was a little shocked and taken back because you generally don't hear about health insurance companies really diving into the LGBT community," he said. "To see a health insurance company step in and say `we want to partake in this and we want to support you,' it was definitely different, but in a great way. We are extremely happy to see that relationship form and we hope to continue with it as well."
While Premera focused its giving on behavioral health, "we're trying to make ourselves relevant and pertinent in the entire community," said Paul Hollie, head of Premera's Social Impact Program.
Alaska Community Foundation
Alliance for Education
American Cancer Society
American Heart Association, Anchorage
American Heart Association, Seattle
Atlantic Street Center
Bellevue College
Building Changes
Center for Human Services
Children's Alliance
Communities of Color Coalition (C3)
Community Resilience Initiative
Downtown Emergency Service Center
Edmonds Community College Foundation
El Centro de la Raza
First Place
Girl Scouts of Western WA
Girls on the Run
Goodtimes Project
Habitat for Hummanity
Homage
Housing Hope
Innovia Foundation
Juvenile Diabetes Research Foundation
Kent Youth and Family Services
Latino Community Fund, WA
Leadership Snohomish County
Lilac Bloomsday Association
Listen and Talk
Mary's Place
Melodic Caring Project
Mockingbird Society
Museum of Glass
NAMI WA
Nome Community Center
Northaven Senior Housing
Northwest Children's Foundation
Norton Sound Health Corporation
NW Immigrant Rights Project
OneAmerica
OutSpokane
PAWS
Perinatal Support Washington
Public Hospital #2/Verdant Health Commission
Rainier Scholars
Real Change News (Real Change Homeless Empowerment Project)
Roots Young Adult Shelter
Seattle Aquarium
Seattle Cental College
Seattle CityClub
Seattle Out and Proud
Seattle Works
Social Venture Partners, Seattle
Sound Generations
Spokane County United Way
Standup for the Cure
Summer Search Project
The Benji Project
The Foraker Group
The Service Board
Three Dollar Bill Cinema
United Way of King County
United Way Snohomish County
University of Washington Tacoma, Center for Leadership and Social Responsibility
WA State Community Actions Partnership
Washington Nonprofits
WithinReach
Year Up
YMCA of Snohomish County
Yukon-Kuskokwim Health Corporation
YWCA Seattle-King-Snohomish
Social Impact Report Team
Project Leads:
Steve Kipp, Premera Blue Cross
Dani Chung, Premera Blue Cross
Design:
Sheena Lintz, Premera Blue Cross
Contributors:
Paul Hollie, Premera Blue Cross
Gloris Estrella, Premera Blue Cross
Alexandra Gunnoe, Premera Blue Cross
Kelly Guenther, Guenther Group
Cynthia Flash, Flash Media