Delivering when it matters most—Premera Social Impact mobilizes to address impacts of the COVID-19 pandemic
SHARPENING FOCUS ON HEALTH EQUITY, BEHAVIORAL HEALTH, HOMELESSNESS, AND RURAL HEALTH ACCESS
Since the inception of the Premera Blue Cross Social Impact program in 2017, we have committed countless hours toward understanding how best to support our underserved communities in Washington and Alaska. With a focus on behavioral health resources and a bias toward preventive medical care, Premera committed $30.5 million to 307 nonprofits over the last three years.
When the COVID-19 pandemic struck in early 2020, our nonprofit partners, already stretched thin serving vulnerable populations, were certain to be hit hard. We proactively reached out to them, offering an additional $6.5 million to let them do what they do best—serve the communities they know.
These philanthropic efforts help make our communities and customers healthier—always important, but never more so than right now.

We believe we can help improve overall health and make our customers' lives better by addressing behavioral health issues—especially for people of color and low-income populations where community health data consistently shows treatment disparities exist. By treating behavioral health, homelessness, adverse childhood experiences (ACES), rural health, and health equity for minority populations that have often been ignored and overlooked in the past, we believe people's physical health will improve—good for the community and for Premera's business.
Our 2.5 million customers are at the center of all we do. We care about their health and the care they receive. We have a two-pronged approach—to help control rising medical costs while ensuring access to quality care. As a not-for-profit, independent licensee of the Blue Cross Blue Shield Association, Premera Blue Cross' more than 3,053 employees, who work in Seattle and Spokane, Wash., and Anchorage, Alaska, strive to improve our customers' lives by making healthcare work better.
In 2020/2021 we chose to focus our philanthropic efforts on four key areas:

Health equity

Impacts of the COVID-19 pandemic

Behavioral health and homelessness

Rural health
Addressing health inequities among underserved populations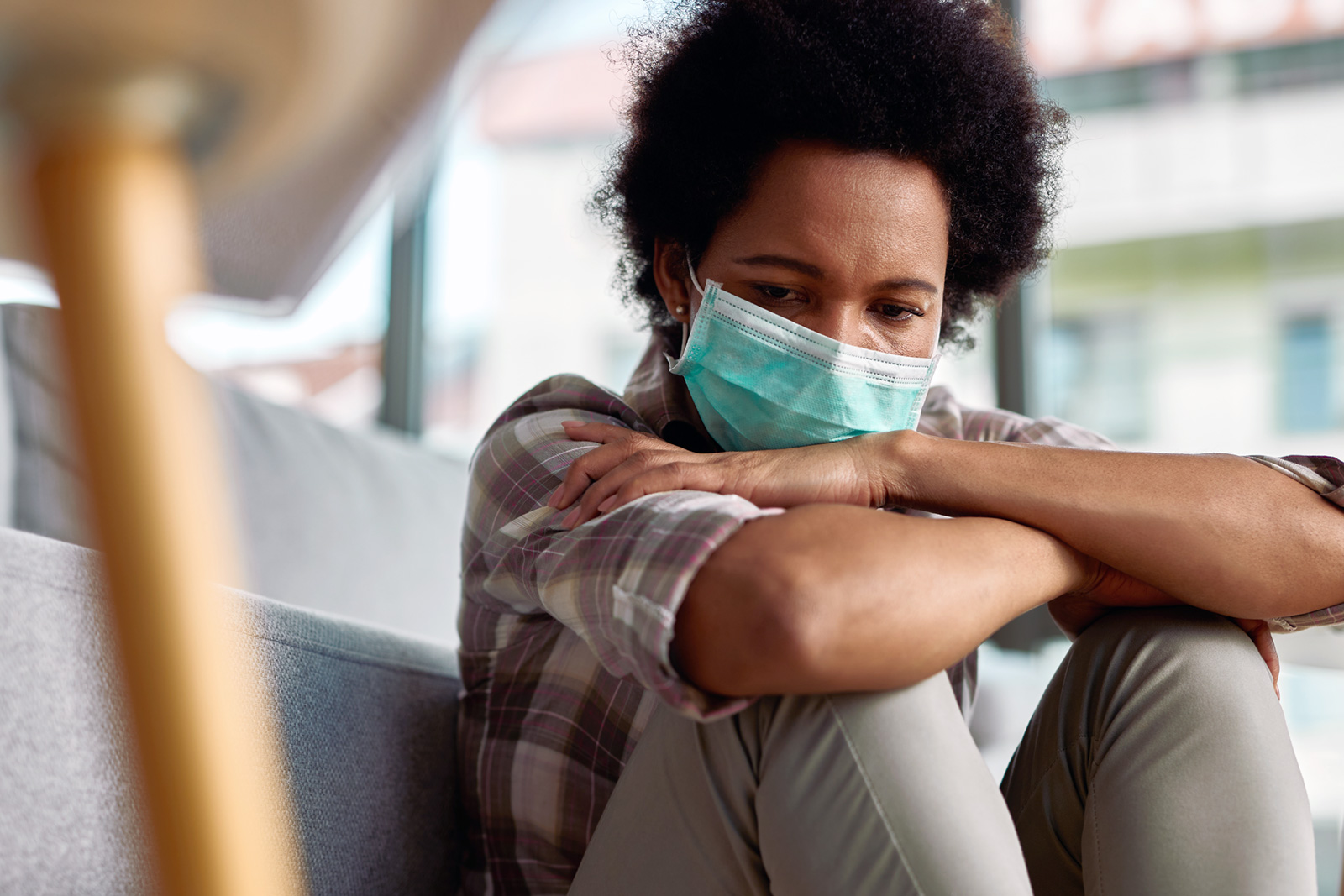 A growing body of evidence shows the negative impact that systemic racism has on the health of Black and Indigenous Americans. As the COVID-19 pandemic has ravaged our nation, the impacts have been exacerbated with the virus infecting and killing minority populations at disproportionate rates. Even with the approval of vaccines, Washington Department of Health data shows that scarce doses of the COVID-19 vaccine have gone disproportionately to white residents.
As highlighted by the American Medical Association, racism is a health care issue. Racism impacts health and in turn impacts access to employment, housing, education and care. At Premera, we believe a person's race should not determine their life expectancy. That is why Premera is working with groups that specifically focus on bridging that gap of health equity.
Byrd Barr Place
Premera donated $300,000 over three years to Byrd Barr Place in Seattle to launch a three-year initiative to conduct extensive research on health disparities by race to initially understand the full impact of COVID-19 on the Black community. Moving forward, the money will be used to prompt greater investment in health delivery systems and ultimately advance equitable health outcomes for Black Americans in Washington state. This includes discovering the ways that systemic racism manifests in health insurance, exploring new models that address disparities, and creating new policies and procedures to help ensure equity for the insurance industry in general.
"When we wrote the concept paper, we thought, `Premera isn't' going to want to dive into this,'" said Andrea Caupain Sanderson, CEO of Byrd Barr Place, a nonprofit that helps members of Seattle's Black community move from poverty to self-sufficiency and build political strength and economic wealth. "We got a quick and early `yes.' We're elated and happy, but we didn't expect it."
Sanderson used herself as an example of how the traditional medical establishment is not designed to address the specific needs of the Black community. At age 46, she wasn't due for a routine colonoscopy for four years, at age 50—the recommended age for the general population. But when Black Panther star Chadwick Boseman died of colon cancer in August at age 43, Sanderson recalled that both her own grandmother and aunt had died of colon cancer.
"The death woke me up, so I reached out to my doctor and asked her for a colonoscopy before age 50," said Sanderson, who noted that her doctor never raised the topic with her before. Sanderson's colonoscopy found five pre-cancerous polyps, which were promptly removed. "There's no way we could have waited until 50. It would have been too late. For Blacks, waiting until you're 50 isn't right," Sanderson said.
Health problems run deep within the Black community. Half of Washington's 311,000 Black residents are dealing with personal or family health issues, Sanderson said. "We see Black folks coming into Byrd Barr Place in their late 50s with mobility impairment in Access vans with diabetes, hypertension, heart disease. They are treatable, but we succumb to them. People are not forthcoming. How do we create a culture where we can talk about our health and ask questions? With information and education, the transformation begins."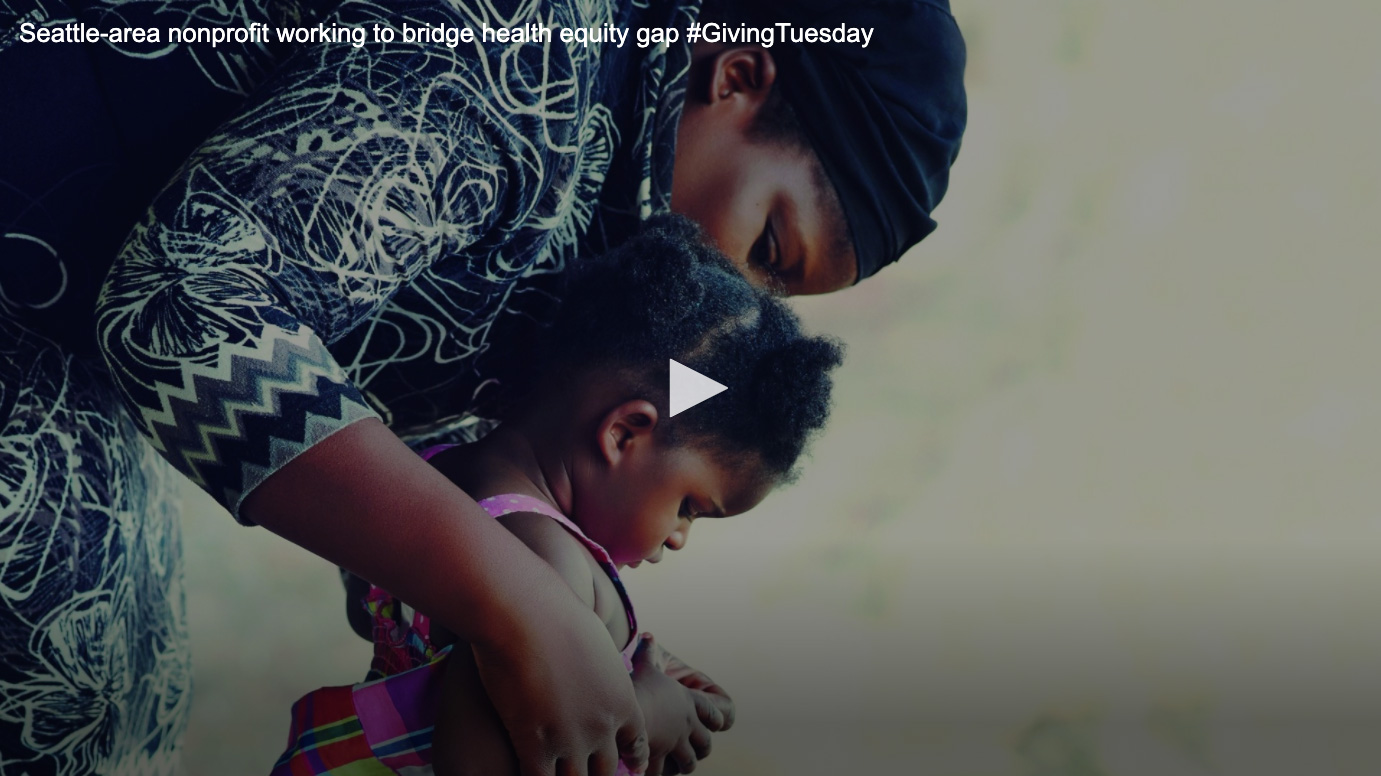 Washington Employers for Racial Equity
Premera also joins with other business leaders in the community as part of Washington Employers for Racial Equity, a group that is making a 10-year commitment to better represent the communities they serve and create a more inclusive corporate culture.
Chief Seattle Club
In King County, Washington's most-populated, American Indians and Alaska Natives make up 15% of the homeless population, even though they represent only 1% of the overall population. They are the most disproportionately represented homeless population with many suffering from addiction, behavioral health challenges, and long-term trauma caused by hundreds of years of displacement from their native lands.
The Chief Seattle Club is using the $500,000 Premera grant it received toward building culturally aware affordable housing for American Indians and Alaska Natives. The money will be used specifically for an on-site health clinic and mental health services to reduce health disparities faced by this vulnerable population. Designed for the Native population, it will include a traditional foods social enterprise cafe; primary health clinic and special spaces for traditional healing; and an expanded space for job training and housing case management, said Chief Seattle Club Development Consultant Anne Xuan Clark.
"A lot of our folks have been chronically homeless for many years, or decades. They've been living outside for a very long time. We believe that Native people can solve the crisis of Native homelessness. We are in the best position to provide culturally appropriate housing for our Native populations."

Jumping in to help with the impact of the COVID-19 pandemic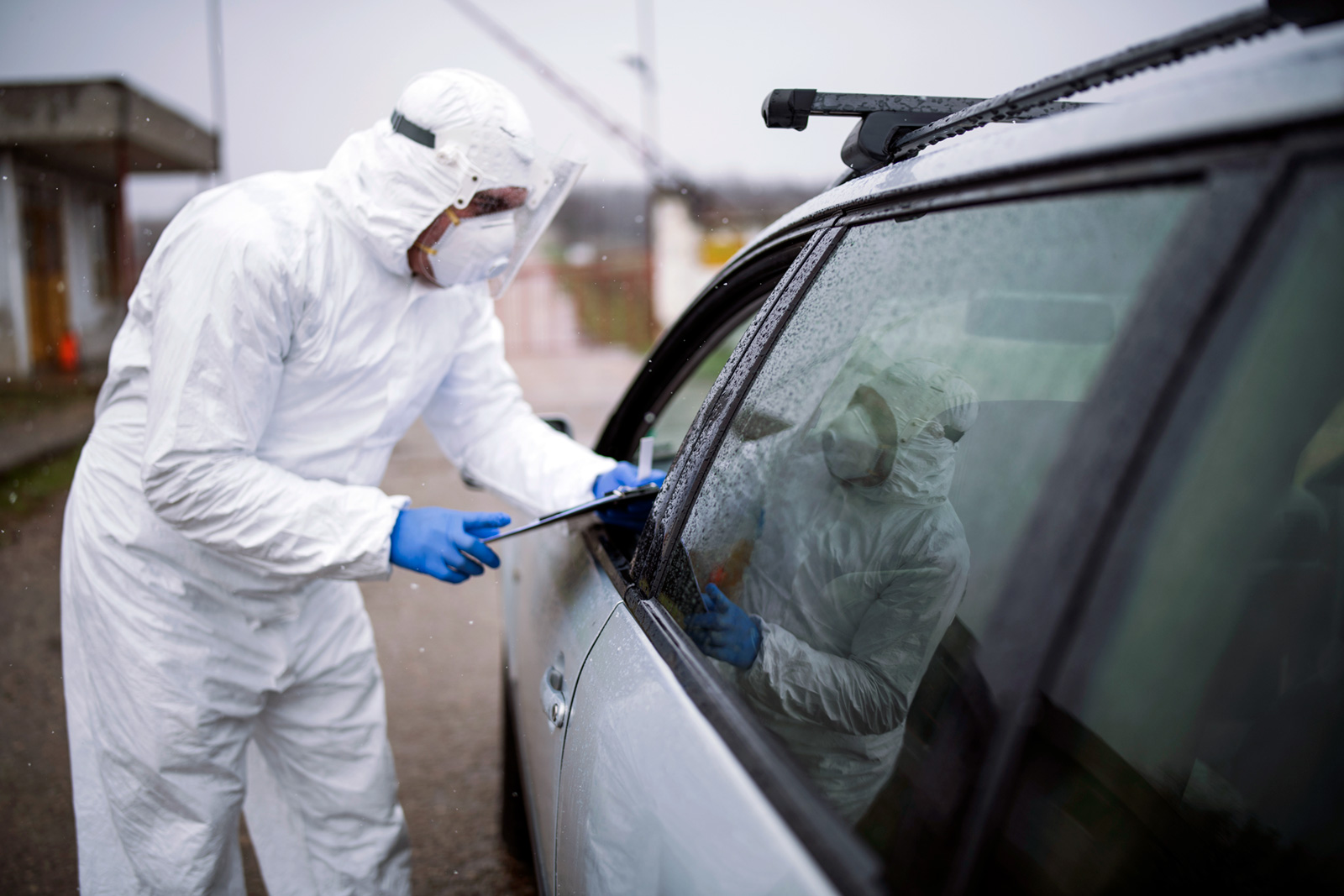 As we watched the COVID-19 pandemic move across the world at the beginning of 2020, we quickly realized this would have a huge impact on the customers we serve—and on the community at large. Rather than waiting for others to act, we proactively reached out to community partners and offered special COVID-19 grants to improve access to care, combat homelessness, and support programs that address behavioral and mental health issues in our local communities.
Many of the nonprofits that received funds used it to cover COVID-19-related costs and programs, from one mental health nonprofit employing nurses to monitor the health of clients with severe behavioral health conditions, to community foundations in Spokane, Yakima, and Seattle deploying funds immediately to pay for food for American Indian elders and gas for volunteers to drive the food to people living in outlying areas.
All in WA Vaccine Equity Initiative
Premera Social Impact joined community and philanthropy leaders across Washington state to launch a new initiative to ensure equitable COVID-19 vaccine access for BIPOC (Black, Indigenous, and People of Color) communities disproportionately impacted by the pandemic. Contributing $150,000, Premera was among the first corporate sponsors to support the All In WA Vaccine Equity Initiative, alongside The Starbucks Foundation.
The initiative targets and streamlines funds to trusted and known, community-based organizations who can conduct linguistically and culturally specific vaccine education and outreach, as well as safely facilitate mobile and pop-up vaccine clinics for those who want to get vaccinated.
Friends of Youth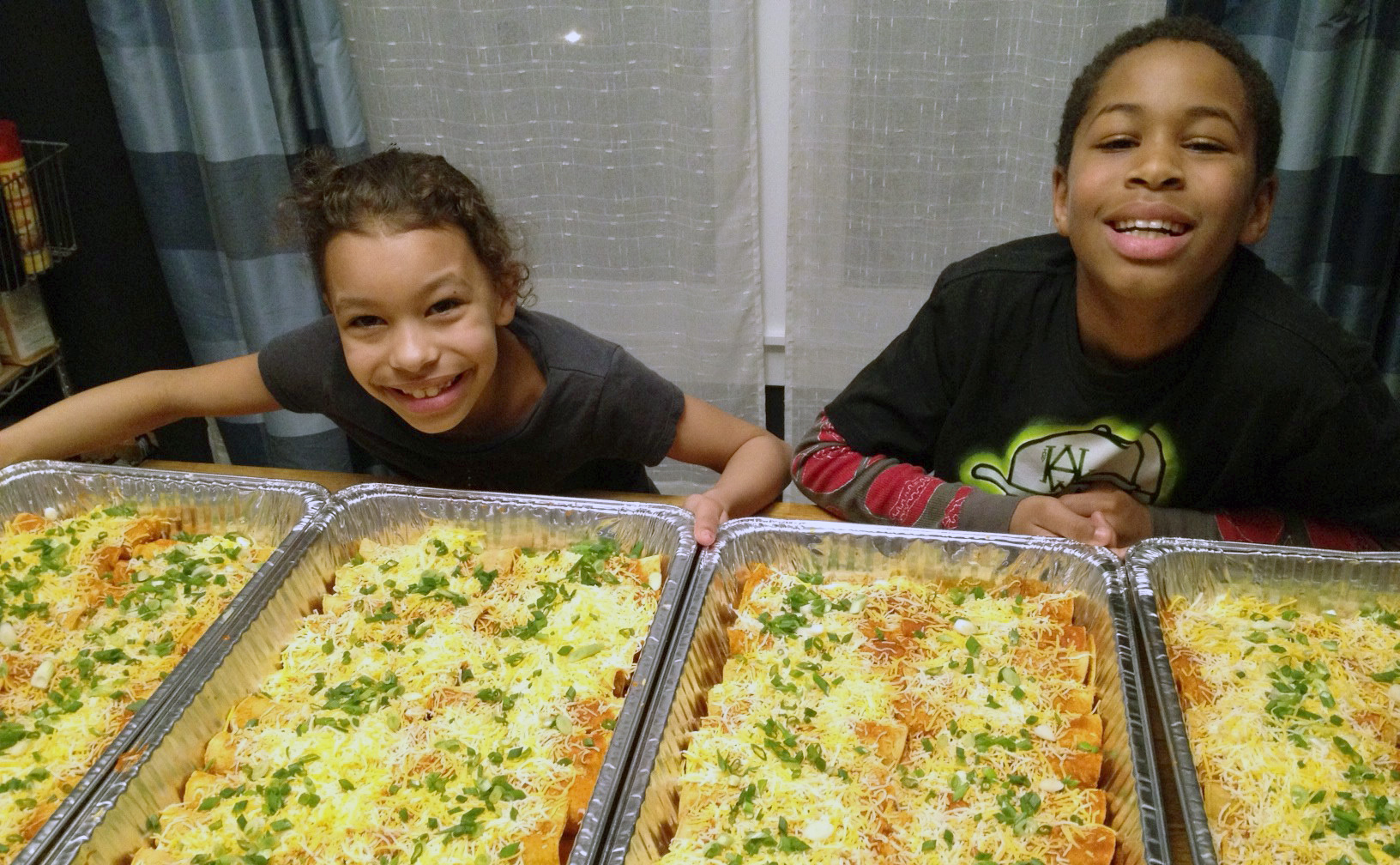 Friends of Youth provides services for homeless youth and families, as well as residential treatment in East and North King County. The organization used a $20,000 grant to help youth facing additional challenges during first few months of COVID-19. DeeAnn Adams, chief program officer for Friends of Youth, said the youth they serve in shelters—like everyone else in the community—were struggling during the early months of the pandemic because they could not see friends, did not attend in-person school, and lost access to peer support. "Like any of our households, COVID-19 amplifies the stressors for youth and staff. Funding like this helps us figure out when we're doing programming how to cover those gaps and that's been really key," Adams said.
The organization also used the Premera funds to create a virtual care program to allow clients to interact with counseling staff via technology instead of in person. "We had to make the switch from in person to virtual counseling overnight. That involved significant investment in technology, laptops, phones, and telehealth," said development director Lynn Juniel. "Premera's flexible funding is critical to our ability to quickly deploy resources in a way that best meets the needs of our clients."
Focusing on behavioral health and homelessness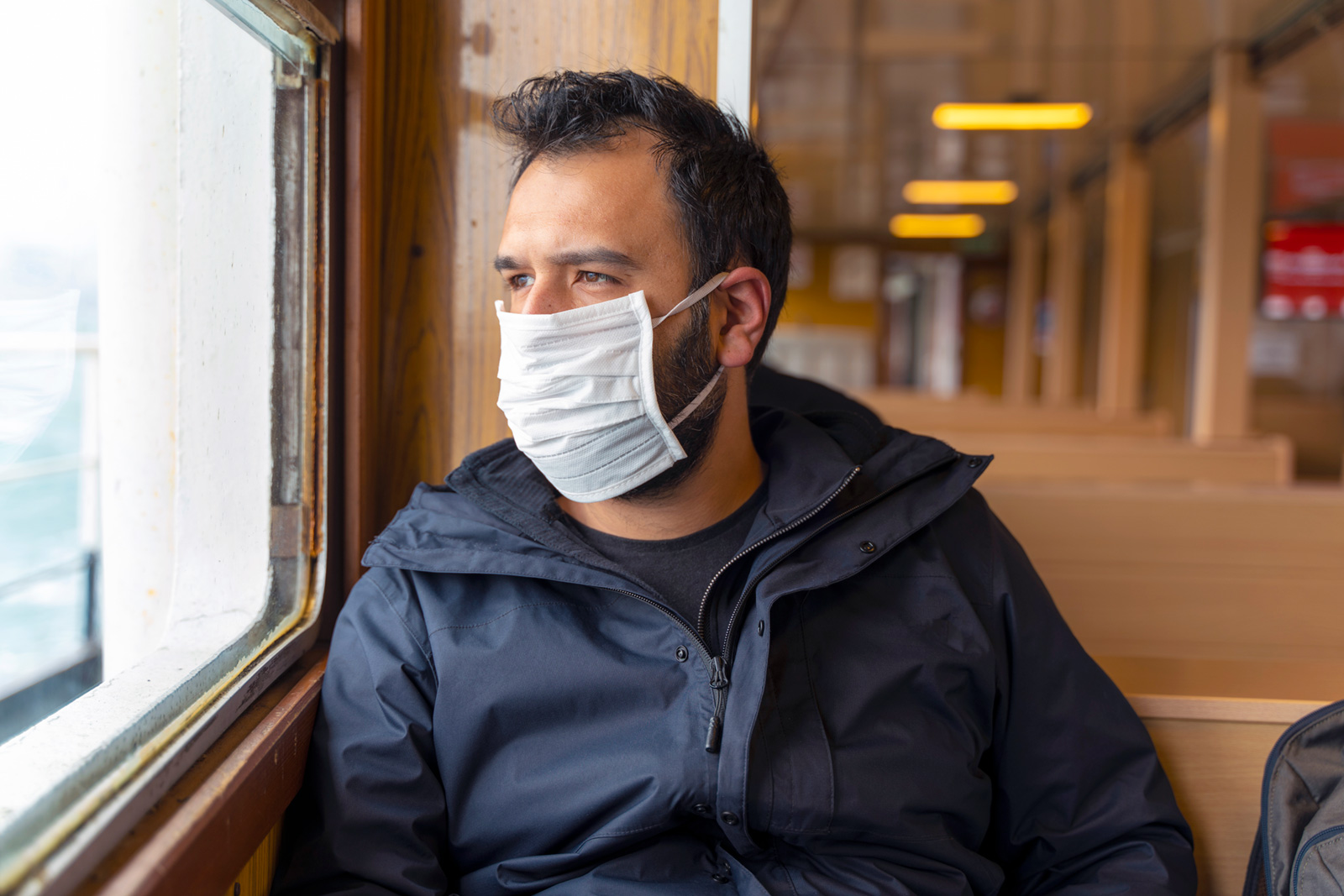 Prior to the current COVID-19 crisis, we recognized the impact of stress on mental health. Since the pandemic emergency began, prolonged stress has increased as we worry about getting sick, how to help children with remote learning, and what it means to work from home. We also may be anxious over our senior family members or the impacts of losing a job.
In addition, the realities of inequality have some exhausted from years of discrimination while others are examining their privilege. Mental health professionals report a 300% increase in anxiety and depression, a 30% increase in people with substance use disorder who have relapses, and an increase in thoughts of suicide, said David Johnson, CEO of Navos, a part of the MultiCare Behavioral Health Network.
For those who are homeless in our population, the impact has been even greater as they struggle to stay distanced, find traditional access to food, and face increased risk of becoming ill with COVID-19 because they have underlying health conditions. Now more than ever we need to employ actions to strengthen the struggling communities we serve.
Navos
Right as COVID-19 struck, Navos received $62,500 from Premera for its Program for Assertive Community Treatment (PACT), which employs a multidisciplinary team to provide coordinated treatment and housing for individuals with severe mental health conditions. The intense program is designed for low-income individuals with severe mental illness who are either homeless or at risk of becoming homeless.
"The money allowed us—especially during such challenging economic times—to keep a robust nursing staff in place," said PACT program director Ravenna Candy. "We have had no COVID-19 outbreaks in any of our housing. We haven't had to skimp on any resources to keep our team and clients safe. We've been able to pay for emergency supplies for clients to stay warm, to provide meals for clients who are homeless, who may need to be in a hotel or motel until they get housing. In lean times like this, this grant has helped us not only survive, but thrive during the pandemic."
Hope House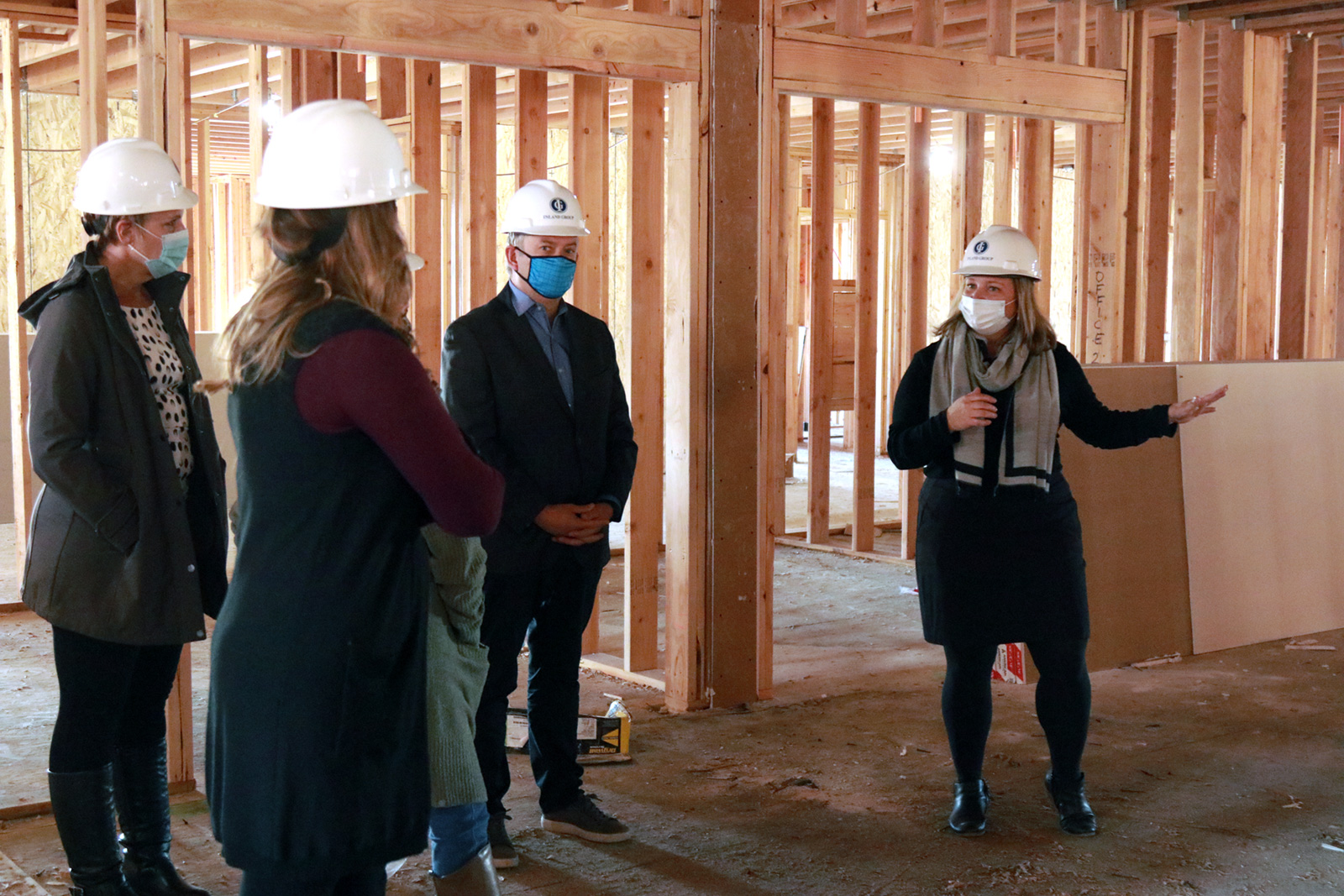 In 2018, Premera granted Volunteers of America (VOA) $1 million for its new Hope House women's shelter. It was the first $1 million VOA had ever received from a private donor, kicking off an $11.6 million campaign that enabled VOA to build a state-of-the-art shelter in Spokane that can serve more than 100 women at a time.
"We were previously turning away 10–15 women every night," said Heather Thomas-Taylor, assistant director of Hope House. "The fact that we don't have to turn women away anymore is an amazing feeling."
Many of the women who check in to Hope House are fleeing domestic violence. Taking this into account, the new shelter will include features such as private shower stalls and will be divided into smaller spaces that are less overwhelming than traditional shelters, which usually consist of large open spaces lined with cots.
On average, residents stay about 18 to 24 months, and will have access to a case manager, nurse practitioner, and behavioral health treatment. The end goal is to provide wraparound services that allow the women to stabilize and then be integrated back into a community setting.
Rising Strong
Premera granted Catholic Charities of Spokane $175,000 to launch its fundraising efforts for Rising Strong, a multi-million-dollar project to help families at risk of child neglect due to alcohol and substance abuse. The program includes housing, drug treatment, behavioral health, and other wraparound services for families with children removed from their homes by Child Protective Services.
Since 2018, 27 individuals graduated from the program and have moved into stable housing. Currently, 15 families consisting of 20 adults and 21 children are being served with on-site services that include mental health treatment, substance use counseling, family stabilization, and parenting skills.
"The mission of Rising Strong is to minimize family and child trauma by keeping families together and preventing separation," said Dawn Kinder, MSW, managing director of Rising Strong. "Taking kids away from parents is probably the most traumatic thing we can do for kids, even if parents aren't making good choices." While 57% of parents in Washington state unite with kids in three years, Rising Strong unites 90% of children with parents within eight months. "Without Premera's support we'd be seeing higher incidents of childhood trauma and longer separation time," Kinder said.
Premera Social Impact Investments | 2018–2020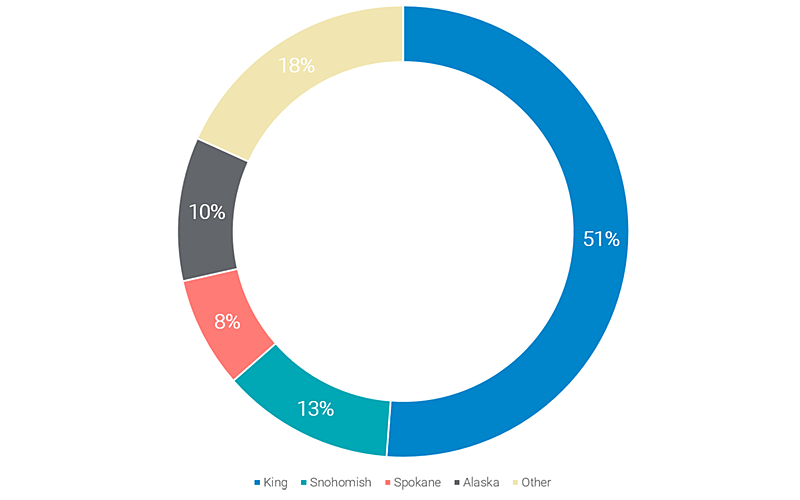 Reaching out to support rural health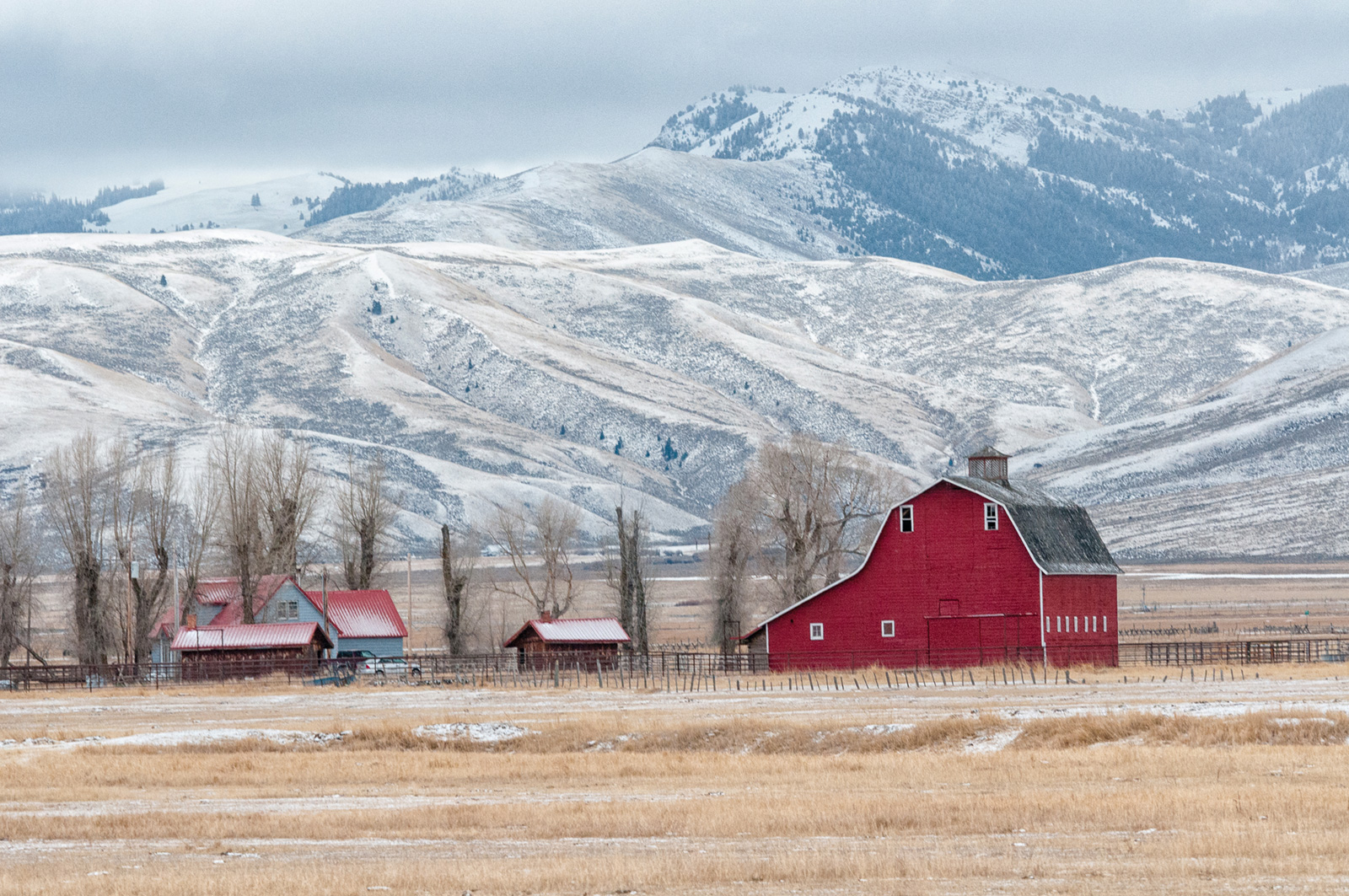 As an organization that covers the entire states of Washington and Alaska, much of our community lives outside major population centers. Many of the people we serve are spread over large, medically underserved areas of land. In Alaska, many remote villages are only accessible by plane or boat—and for parts of the year even boats are unable to reach significant portions of the population we serve.
According to a 2017 study by the National Rural Health Association, people living in rural areas suffer worse health outcomes than their urban counterparts. They are sicker, poorer, and older, and are more likely to experience higher rates of premature death, disability, and chronic disease. In Alaska, more than 200,000 people, or about 32% of the state's population, live in rural communities. We rely heavily on the nonprofits in these areas to address the physical and mental health of the rural population.
Rural Health Care Fund
One successful program in Alaska trains Native Alaskans to become rural health aides to provide health care to the communities where they live. Premera Blue Cross Blue Shield of Alaska invested $5.7 million to support access to rural health care by establishing the Rural Health Care Fund, managed by the Rasmuson Foundation. Yukon-Kuskokwim Health Corporation's community health aide program received a $100,000 grant to support small capital improvements, equipment purchases and other needs critical to expanding the Community Health Aide Program's reach. The outreach underscores Premera's interest in improving the health of people living in underserved areas.
"It is critical to invest in effective, long-term solutions to close the growing gap between urban and rural health care access," says Jeff Roe, president and CEO of Premera Blue Cross.
VOA Alaska
Although VOA Alaska is based in Anchorage, it serves youth throughout the vast rural state. "Anchorage is a hub for the rest of the state. Youth come here for a variety of reasons and sometimes can get stuck," explained Sherrie Wilson Hinshaw, president and CEO of VOA Alaska.
VOA Alaska serves youth who are homeless, at risk of being homeless, and those who struggle with behavioral health issues. Youth and young adults experiencing homelessness face social, environmental, and economic conditions that put them at risk for exploitation, trafficking, physical and mental harm, and ongoing homelessness. Alaska Native youth are disproportionately represented in the population experiencing homelessness. LGBTQ youth face a specific set of barriers, making them particularly vulnerable as well. During COVID-19, the risk of drug overdose deaths has increased as individuals face unprecedented challenges and use of synthetic opioids like fentanyl has increased, Hinshaw said. Alaska's harsh climate also creates a higher risk of death from exposure.
VOA Alaska is using Premera's $400,000 grant to provide housing, intensive support services and behavioral health services to high-risk youth. "Homelessness and behavioral health are challenging conditions to solve," Hinshaw said. "We hope that with all of us working together and the investment from Premera on homelessness and youth and behavioral health resources, that programs like these can end up changing lives. We wouldn't have been able to grow the program to a size to start meeting that need without the investment from Premera." VOA Alaska's goal is to house 25 youth by year end in this national demonstration project to determine whether changing the trajectory of a youth's life now can prevent homelessness in the future.
Yakima Valley Community Foundation
Soon after COVID-19 hit the United States, Premera gave grants to community foundations in Spokane, Seattle, and Yakima—believing that these organizations would be best equipped to distribute the funds in the quickest and most efficient way to reach the people who needed it most.
Yakima Valley Community Foundation gave $25,000 to area food banks and shelters to support local tribal communities. Volunteers received gas gift cards to collect traditional foods to distribute to Yakama tribal elders, many of whom were stuck inside and live far away from urban centers. The community foundation worked with Native Friends to reach out to local fishermen to provide dried salmon and other traditional foods to the Native population, said Sharon Miracle, president and CEO of the Yakima Valley Community Foundation. The organization also paid for scarce personal protection equipment needed by Heartlinks Hospice & Palliative Care. In addition, the foundation led the development of a website to connect nonprofits with community needs and hired an agency to develop educational ads about COVID-19 aimed at the large local Hispanic community.
"We became one cohesive community. Our relations are so much stronger and deeper. I feel like we're no longer sitting behind a desk waiting for applications to come in," Miracle said. "We're much more proactive about asking what we can do. People are more likely to call. It's been really, really positive. We feel like our systems are well prepared."
2020 Social Impact Grant Recipients
Alaska Children's Trust Anchorage, AK
Alaska Community Foundation Anchorage, AK
All Alaska Pediatric Partnership Anchorage, AK
Associated Recreation Council King, WA
ChildHaven King, WA
Children's Advocacy Centers of WA Thurston, WA
Community Foundation of Snohomish County Snohomish, WA
Community Foundation of South Puget Sound Thurston, WA
Entre Hermanos King, WA
Friends of Children Of Walla Walla Walla Walla, WA
Greater Tacoma Community Foundation Pierce, WA
Imagine Children's Museum Snohomish, WA
Innovia Foundation Spokane, WA

Lifeline Connections Clark, WA
New Beginnings King, WA
Northern Hope Center Fairbanks, AK
Pierce County Project Access Pierce, WA
Providence General Foundation Snohomish, WA
Rainier Scholars King, WA
Seattle Foundation King, WA
Snoqualmie Valley Community Network King, WA
Treehouse King, WA
Yakima Valley Community Foundation Yakima, WA
YMCA Of Snohomish County Snohomish, WA
YWCA Spokane Spokane, WA

2020 TAX Grant Recipients
Akeela Inc Anchorage, AK
Anchorage Community Mental Health Services, Inc Anchorage, AK
Attain Housing King, WA
Boyer Children's Clinic King, WA
Catholic Charities of Spokane (legal dba Catholic Charities Eastern Washington) Spokane, WA
Chief Seattle Club King, WA
Downtown Emergency Service Center (DESC) King, WA
Family Promise Of Spokane Spokane, WA
Great Lakes Mental Healthcare Pierce, WA
Housing Hope Snohomish, WA
Imagine Housing King, WA

Maddie's Place Spokane, WA
March of Dimes King, WA
Navos King, WA
Nine Star Enterprises, Inc Anchorage, AK
Recovery Café King, WA
Solid Ground King, WA
United Way of Anchorage Anchorage, AK
Vine Maple Place King, WA
Vision House King, WA
Volunteers of America - Alaska Anchorage, AK
YMCA Of Greater Seattle King, WA

2020 Health Equity Grant Recipients
Atlantic Street Center King, WA
Byrd Barr Place King, WA
Mary's Place Seattle King, WA
Odessa Brown Children's Clinic, Seattle King, WA
Employee engagement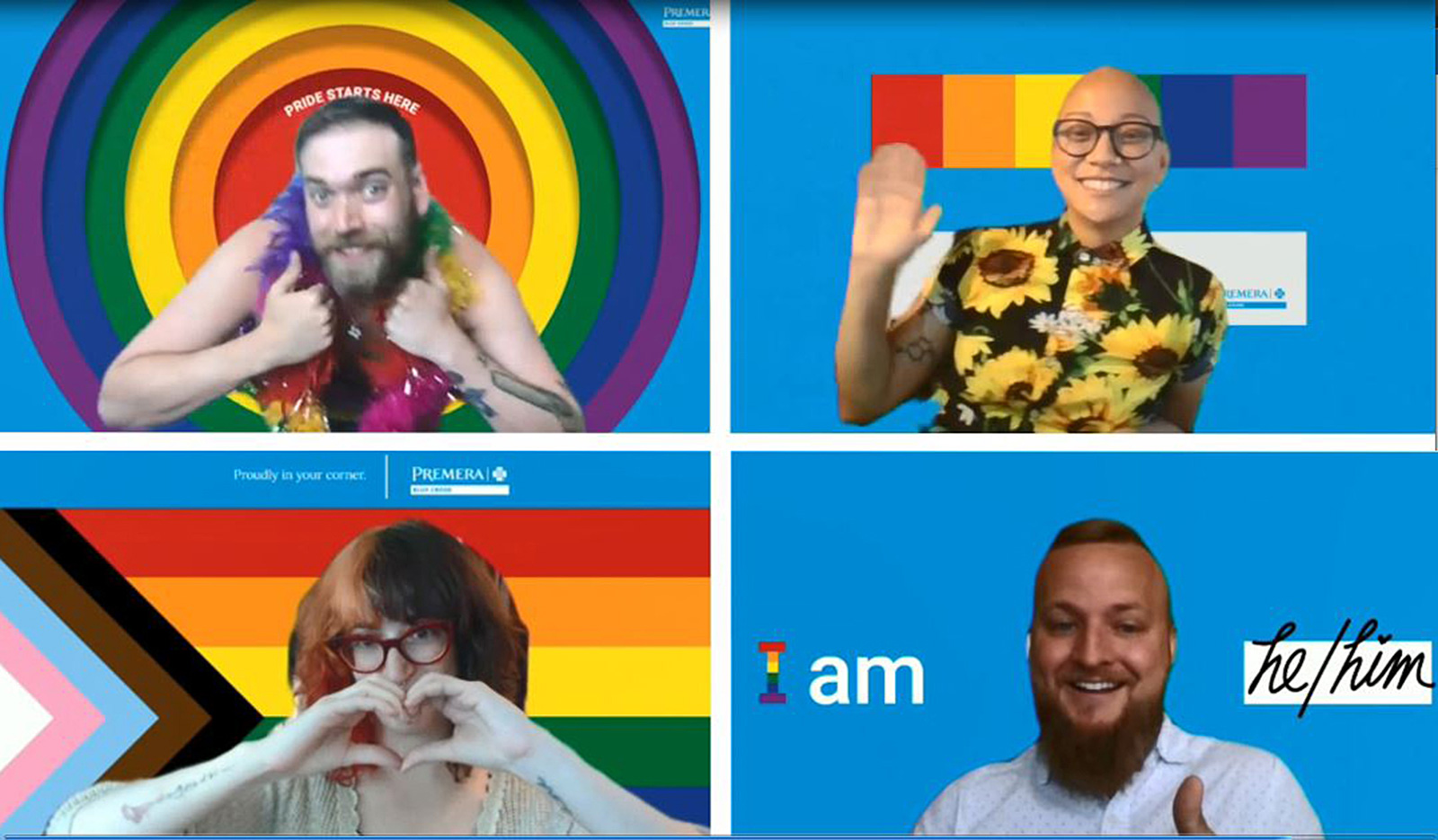 Although much of 2020 was spent working virtually, it didn't stop Premera employees from giving back to our community. Our employees enthusiastically raised more than $788,000 for the United Way Giving Campaign, donated and collected more than $36,000 for the American Heart Association Heart and Stroke (virtual) Walk, and participated in virtual Pride events.
United Way
Despite working from home, Premera employees raised more money than ever for this year's United Way campaign CORE Program, which focuses on addressing poverty. Employees also were able to choose specific organizations and programs outside of United Way—charities that spoke to their direct interests and community concerns.
"This year Premera employees went far beyond previous years and gave financially when our communities needed us the most," said Premera vice president of Eastern Washington and campaign co-chair David Condon.
Virtual Heart Walk
Premera teams once again joined the fight against heart disease and demonstrated their commitment to good health by participating in the American Heart Association Heart and Stroke Walk. But instead of meeting at the Space Needle to walk together, participants engaged online as part of the million Heart Walk heroes from across the nation who raised funds for lifesaving science.
Proud of Pride
Despite the cancellation of the Seattle Pride parade this year, Premera continued to celebrate Pride by raising awareness and support. Pride flags flew on the Mountlake Terrace and Spokane campuses, employees displayed Pride background graphics for virtual meetings, and employees were encouraged to order free pronoun pins to display on their work lanyards. Using correct personal pronouns is a simple way to raise awareness and show respect and support for transgender, non-binary, and gender-nonconforming people.
COVID-19 changed the way employees gave back in 2020. But it did not stop the enthusiasm and dedication of our dedicated workers, who looked beyond themselves to help the greater community.
American Diabetes Association
American Heart Association
American Heart Association, Anchorage
Center for Human Services
Chrohn's & Colitis Foundation
El Centro De La Raza
Friends of The Children, Seattle
Friends of Youth
Girls on The Run Of Snohomish County
GSBA Scholarship Fund
Leadership Snohomish County
NW Children's Foundation
Plymouth Housing Group
Providence Hic
Rainier Scholars
Seattle Aquarium
Seattle Out and Proud Inc
Seattle Works
Spokane County United Way
Three Dollar Bill Cinema
Volunteers of America Of Eastern Washington
Washington Public Affairs Network
YWCA Seattle, King, Snohomish
SOCIAL IMPACT REPORT TEAM
Project Leads:
Alexandra Gunnoe, Premera
Paul Hollie, Premera
Design:
Sheena Lintz, Premera
Contributors:
Eric Trott, Premera
Molly Daniels, Premera
Cynthia Flash, Flash Media